Career counseling and career management
Career development and management are more critical than ever in today's rapidly evolving software industry. The journey from a new programmer to an experienced software engineer can be challenging and multifaceted. You'll benefit extremely from career counseling and career management courses if you want to make the most of your software career. We will explore the value of these courses and how Burraq Engineering Solutions is the Place to kick-start your career in software development.
Why Career Counseling Matters
1. Understanding Your Strengths and Interests
One of the primary advantages of career counseling is gaining insight into your strengths and interests. Many people start careers in software without a clear understanding of where their true talents lie. Career counselors at Burraq institute can help you pinpoint your strengths and interests, ensuring you're on a path that suits you best.
2.
Setting Clear Goals
Setting clear career goals is essential for success in the software industry. Career counseling can help you define your long-term and short-term objectives, providing you with a roadmap to success. With the guidance of professionals at Burraq Engineering Solutions, you can chart your course and set yourself up for a fulfilling career.
3.
Navigating Career Transitions
In the rapidly changing field of technology, career transitions are not unusual. Whether you're switching from one programming language to another or exploring a new role, career counseling can be invaluable in managing these shifts. Burraq Engineering Solutions offers expert advice and resources to support your career transitions.
The Role of Career Management Courses
1.
Skill Development
Software engineering is a field that is continually changing. Career management courses at Burraq Engineering Solutions are designed to keep you updated with the latest tools, languages, and technologies. These courses will teach you the practical skills you need to succeed in your career.
2.
Time and Resource Management
Managing your time and resources efficiently is key to a successful software career. Career management courses teach you to prioritize tasks, meet deadlines, and optimize your workflow. At Burraq Engineering Solutions, you'll find courses that focus on these essential skills.
3.
Networking and Professional Growth
Building a strong professional network is vital in the software industry. Career management courses offer guidance on effective networking strategies. Burraq Engineering Solutions feed a community of software professionals, making connecting with colleagues, mentors, and potential employers easier.
How Burraq Can Help?
Burraq Engineering Solutions is your one-stop destination for career counseling and career management courses in the software industry. We offer many courses and resources to help you unlock your full potential. Here's why Burraq Engineering Solutions stands out:
1.
Expert Career Counselors
Our team of career counselors comprises experienced professionals who understand the software industry inside and out. They provide personalized guidance tailored to your unique goals and aspirations.
2.
Comprehensive Course Catalog
Burraq Engineering Solutions offers a wide range of career management courses. Whether you're looking to improve your programming skills, learn new languages, or enhance your project management abilities, we have a course for you.
3.
Interactive Learning
Our courses are designed to be engaging and interactive. You'll be able to work on real-world projects, collaborate with peers, and receive feedback from industry experts.
4.
Flexible Learning Options
We understand that everyone's career journey is different. That's why we offer flexible learning options, including self-paced courses and live virtual classes, so you can choose what suits your schedule.
5.
Ongoing Support
Your journey with Burraq Engineering Solutions continues after completing a course. We provide ongoing support, career advice, and job placement assistance to help you maximize your newfound skills.
FAQs
Q1: What is the cost of career counseling at Burraq Engineering Solutions?
A1: Career counseling at Burraq Engineering Solutions is provided as part of our career management courses. The cost may vary depending on the course you choose. Please visit our website for detailed pricing information.
Q2: Are there scholarships or financial aid options available for courses?
A2: Yes, we offer scholarships and financial aid for eligible students. Everyone should have access to quality education, and are committed to making that a reality.
Q3: Can I access course materials after completing a course?
A3: Yes, you will have continued access to course materials, including updates, after completing a course. This ensures that you can stay up-to-date with the latest developments in the software industry.
Q4: How do I get career placement assistance?
A4: Our career placement assistance program is available to all students who complete our courses. We guide job searching, interview preparation, and connecting you with potential employers.
Q5: Are the courses suitable for beginners with no prior programming experience?
A5: Yes, we offer courses for beginners and intermediate and advanced learners. Whether you're just starting or looking to advance your career, we have courses that cater to your skill level
The right path to your ideal job.
Choosing the right path and Goal setting.
Career planning and philosophy for the future.
Proactive career management.
Describe the career development process and identify where they are in the cycle.
Describe the impact of demographic, economic, and organizational changes on the
world of work and their personal career development decisions.
Identify their own personal priorities, skills, interests, strengths, and values using a
variety of contemporary assessment tools and reflection activities.
Relate their assessments to academic and occupational options and goals.
Use both primary and secondary research techniques to gather information about
organizations, occupations, and industries.
Building a network and relationship.
Write a compelling resume and cover letter.
Interview skills and techniques
Interview effectively for prospective internships and jobs.
Participate effectively in networking events.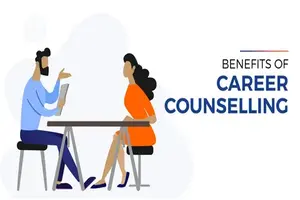 Career counseling and career management
Fee: 40,000
Duration: 1 Month
Timing: 9AM-11AM, 11AM-1PM, 1PM-3PM, 3PM-5PM, 5PM-7PM, 7PM-9PM